This traditional mixture of spices called spetsieriko made from staple pantry seasonings is an art in itself so whether you decide to make the blend at home or purchase the blend while visiting Corfu I have you covered.

Corfu has it's own unique cuisine to greek food found around the rest of Greece with influences from british and mainly venetians. It goes without saying that a culinary tour of Corfu would have to include the tasty island classic, Pastitsada. The legendary Pastitsada is one of the many favourite Sunday Greek dishes served at a Corfiot family lunch. For those who's never tasted it, Pastitsada is the trademark dish of Corfu island, which is strongly influenced by the island's 400 years long Venetian occupation who were responsible for distributing valuable spices from the East throughout Europe, including Corfu leaving a huge influence on Corfu cuisine today. 
The roots
This recipe is still made today in the region of Verona and its original name was Pastissada or Pastissáda de cavál, "traditionally made with horse meat, due to a grim fifth-century battle in which the starving population was able to survive on the meat from the dead horses that littered the battlefield. To improve the taste of the meat they would add the spice blend.

The Venetians ultimately adapted the recipe to use beef, and the Corfiots followed, though today you'll also find Pastitsada made with chicken or rooster."
The Secret
If you want to make a perfect Corfiot Pastitsada, the secret is in the taste of the red sauce which comes from the blend of spices called spetsieriko which contains up to nine spices.
The blend
Every Corfiot housewife like my mother-in-law, Nikki has her own spetsieriko recipe with their own personalized version, especially in terms of the ratio of spice they use to create a dish with rich flavor without using any specific dosage.

The blend even differs from villagers and cities as those living in cities centuries ago had access to a large variety of spices where those living in villages used spices they had available at the time. Even today, Nikki who grew up in the village uses basil, salt, sugar, red pepper, cinnamon, clove and bay leaf in her blend.

The basic spices that the mixture has are: cinnamon, nutmeg, allspice, cumin, clove, sweet red pepper, hot red pepper, salt, black pepper.- all spices that the Venetians obtained from the Levantines and were of the highest value during the spice trade.
Just like the Corfiot housewife you can create your own special unique blend that fits to the dish you wish to create. If you like your dish to have a stronger cinnamon flavor then add more cinnamon.

In the past, Corfiots would say that if the sauce is cooked well it should create a red mustache when eating. There can never be too much sauce.
Where to buy spetsieriko
1. Pharmacy of Carmela Deleonardo
Georgiou Theotoki 56, Corfu 49100. Greece.
Rumour has it, the best blend of spetsieriko is made by the pharmacy of Carmela Deleonardou (1850) one of the oldest pharmacies in the old town of Corfu.

Although today pharmacies have replaced traditional medicines with the chemical of pharmaceutical companies Carmela continues to sell their blend of spetsieriko to create the tastiest Pastitsada.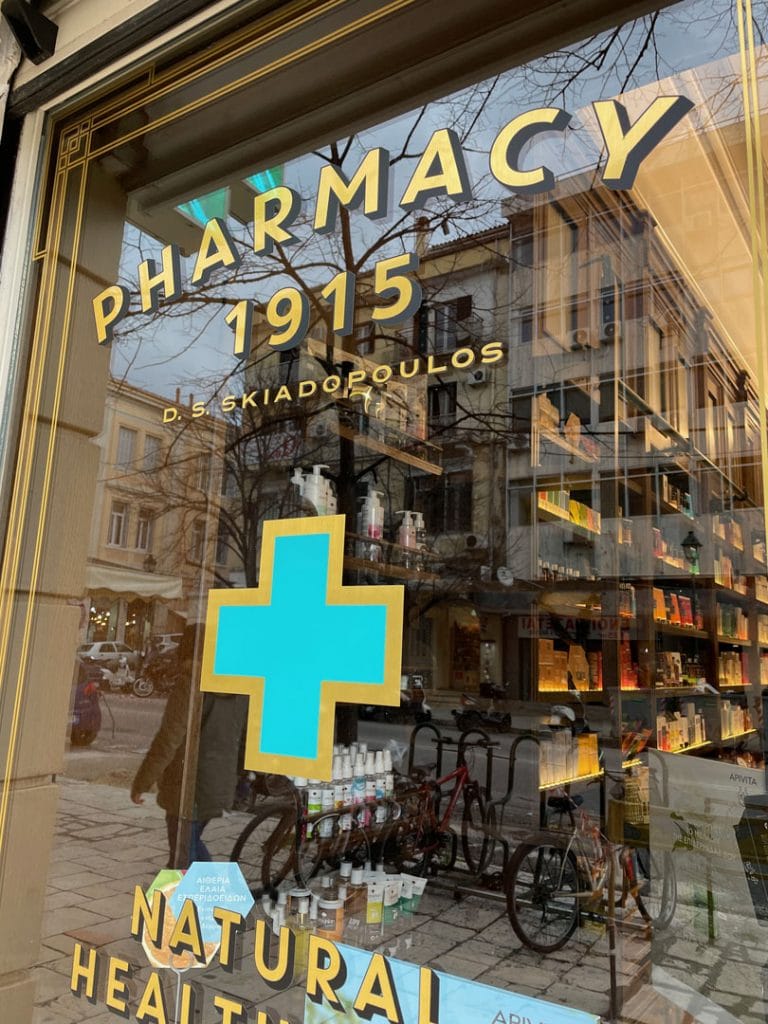 The recipe of the magic blend which was inherited from her parents is kept a secret but i've read that it takes her about three hours to prepare the mixture which combines twelve spices to a powder, including sweet paprika, hot pepper, cinnamon, cloves, nutmeg, allspice, bay leaves. That explains why it's rarely available to purchase. I must have visited the pharmacy 10 times until I managed to buy the small sachet of 'gold'.

You'll probably be wondering why a pharmacy was selling spices in the 1800's. The name comes from spezzerie which means pharmacy, as in the old days the pharmacies prepared the spice mixtures both for the kitchen and for medicinal uses. After all, from ancient times, spices were not intended to improve the taste but were mainly used to preserve food.

If you'd like to try your hands on this spetsieriko blend be sure to visit Carmela Deleonardou Pharmacy at Georgiou Theotoki 56, Corfu.
2. SWEETnSPICY – Bahar Shop
Agias Sofias 16, Corfu 49100, Greece
Sweet n Spicy with over 100 different different spice mixes in the center of the Old Corfu Town. It's a feast for the eyes and i'm certain you will be leaving with much more than just spetsieriko. All the spices are fresh with no preservatives and artificial colourants enhancing the flavour on any dish you prepare at home. And best of all you can order all the spices and have it delivered to you anywhere in the world.
How to blend spetsieriko?
Since it's not easy for everyone to travel to Corfu, I'm sharing a very special blend from Vasiliki Karounou, Ambelonas' owner and cook, who has published a cookbook with traditional local Corfu recipes that brings back the cooking secrets and flavors of previous generations on the island. The recipe she shares was passed down from her mother-in-law who was known as the best cook in Corfu.
Pastitsada Spetseriko spice mix
If you want to make a perfect Corfiot Pastitsada, the secret is in the taste of the red sauce which comes from the blend of spices called spetsieriko which contains up to nine spices.
Check out this recipe
Now it's time to cook Pastitsada
When you've mastered your spetsieriko or bought a pre-made blend it's time to prepare Pastitsada. The meat is initially cooked with oil, spices, onion, garlic, and red wine. After that, cinnamon, nutmeg, laurel, fresh tomato, tomato paste, and sugar are added. It is served with pasta and grated cheese.

For an authentic Corfiot Pastitsada recipe, Vasiliki Karounou shares her recipe from her book 'Corfu Cuisine' where she searches for forgotten flavors and experiments with local ingredients.

Happy cooking and cheers to the tastiest Pastitsada. I'd love to hear from you so please comment below or tag @taxidiotisgreece when cooking your Pastitsada.