Most people might consider Santorini a destination purely for couples and it is romantic, but it has so much more to share with anyone you care about.

I visited Santorini in September with my mom and it was the perfect place to holiday together without breaking the bank. This time of year is considered an off-peak season with fewer crowds and milder temperatures so it's all the easier to really explore.

Beyond the famous Caldera sunsets Santorini offers a unique landscape and is a wonderful place for adventure. Amazing food, wine and unforgettable sunsets are just the start of what this legendary Greek island in the Cyclades has to offer.
How long to stay for
We stayed for 3night/4days which was enough time to experience the whole island although we didn't spend any days just on the beach. I'd add on a day if you fancy a beach day in the warmer months.
Accommodation in Santorini
I found a beautiful hotel called Blu Room located in Akrotini, an old Bronze Age settlement, about 1 hour's drive from popular Oia. Of course, you could stay in Oia (or Fira) itself, but you'll pay a hefty price for a romantic suite swarming with tourists whereas the Blu Room still offered us a beautiful sea view of the Caldera at 100euros a night, including breakfast. It really was the perfect base for us with the famous red beach just 1km away.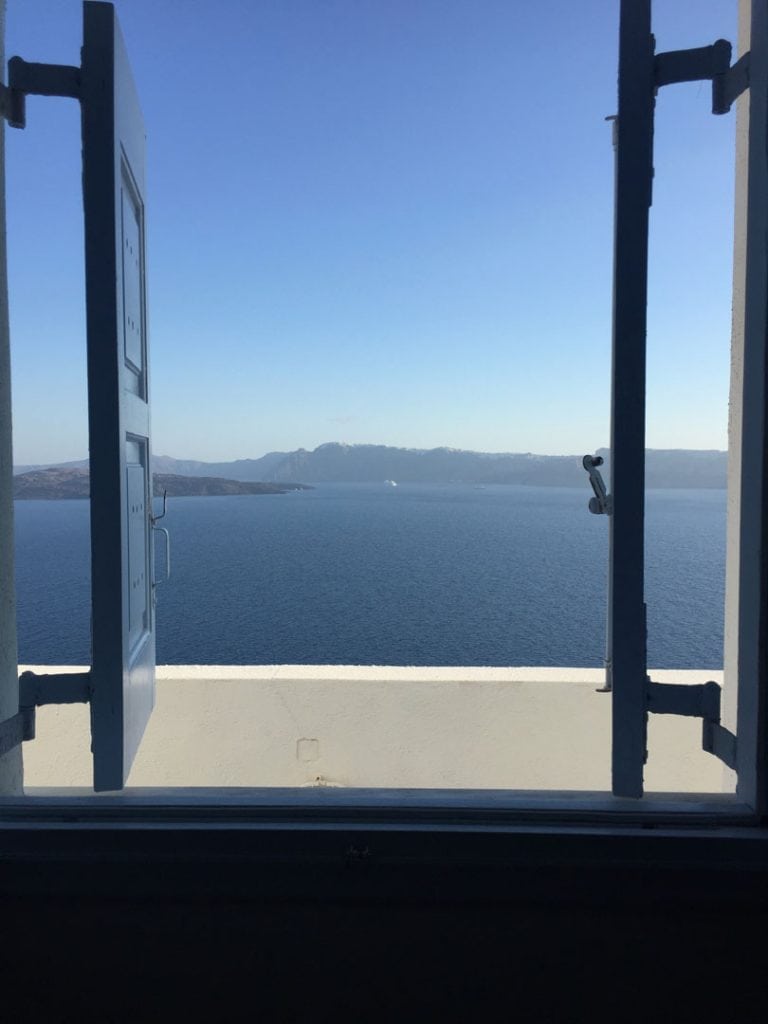 Getting around Santorini
Santorini offers transport for every need and budget from buses, taxis, quad bikes and car hire. We decided to rent a car on arrival from Auto Rent Santorini which is a great way to make the most of the island if you don't have time to plan your schedule around public transport. It also meant we could get off the beaten track and explore remote, authentic villages and wineries that we'll never forget.

If you do want to visit Oia then a bus is probably your best option because parking at the village is nothing but a hassle. From Akrotiri you'll need to take a first bus to Fira and then change to reach Oia but the island has a brand new road so it's easy going whether you're travelling by bus or car.
Best Memory
There's something very special about discovering beauty that's hidden off the beaten track. Finding Kleopas playing an ancient Greek lyra in a cave on the footpath up to a remote church in Pyrgos village had my heart singing with joy. That's definitely a moment I won't forget.

Favourite village
Pyrgos has to take the prize here. With beautiful, traditional, whitewashed houses, intriguing alleys, castles and more than 40 churches, you can uncover authentic daily life on Santorini in a way that most tourists will never experience.
Wine Tasting
I'm South African so I've tasted my fair share of wine but Santorini varieties are something you won't want to miss. . Santorini cultivates nine indigenous types of grape including the famous Assyrtiko which is now one of my favourite wines to drink in Greece.

Most of the wine produced in Santorini is exported or sold exclusively to local restaurants and you can choose to taste it there or hire a car and visit the wineries yourself firsthand. Some of our favourites included Venetsanos Winery, Gavalas and Domaine Sigalas.

If you don't want to drink and drive, consider the wine bus tour but bear in mind that travelling by car will give you a pick of local tavernas too.
Where to catch the best sunset
Oia
Oia is one of the most popular places to watch the sunset in Santorini but it does get crowded. Nevertheless, Oia is incredibly beautiful with whitewashed houses carved on the hillside and narrow cobblestone alleys. With the rays of the sunset against the houses it makes a stunning sight that's perfect for photos. . Most alleys are congested so I suggest heading towards the windmills where it's slightly less crowded. Arrive before 17:00 to grab the best spot to enjoy the sunset.
Fira
Fira is Santorini's capital and one of the largest towns on the island Although it's not known for its sunsets, you can still catch some great views as the sun goes down, minus the crowds.
Sunset cruise
At first glance it might seem outrageous to pay the 100 euros per person to watch the sunset from a catamaran cruise but once you've tried squeezing through the crowded streets of Oia to grab a spot the price seems well worth it.

A sunset cruise wasn't something we got to do on our visit but it's definitely top of the list for next time.
So, I hope that sharing some of my own highlights of Santorini will help you to have an unforgettable trip. If you go, then I'd love to hear about it. Just tag @taxidiotisgreece on your posts or leave me a comment here.